Speaking Opportunities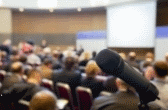 Industry practitioners, technology end users, researchers, and executives who are interested in delivering a presentation at the Forum, serving as session moderator, or participating on a panel discussion are welcome to submit a speaking proposal.
To view last year's schedule of sessions and speakers,
click here.
Guidelines for Submitting a Speaking Proposal
Individuals who wish to deliver a stand-alone presentation or organize a panel session with multiple speakers should submit the following:
1. Speaker name, title, company, and contact information
2. Presentation title (or title of panel session)
3. Abstract of presentation or panel session (150 words)
4. Speaker biography and photo
5. Bullet list of 4-5 Key Learning Points from the presentation or panel session
Proposals should be emailed to
info@grid-modernization-forum.com
by
Friday, February 9, 2018
Additional Guidance
We ask that proposals be non-commercial in nature. Submissions will be carefully reviewed by the Program Advisory Group to ensure depth and relevance to the program.


Sponsorship of the Forum is not a requirement for participating as a speaker. However, there are a limited number of sponsorship options that do involve a speaking engagement. For more information, please contact us.


Presentations that emphasize case studies, best practices, and real-world results are encouraged.
For further information,
contact us.